Dr. Melissa Eden, DVM, BSc.
Equine Veterinarian, Owner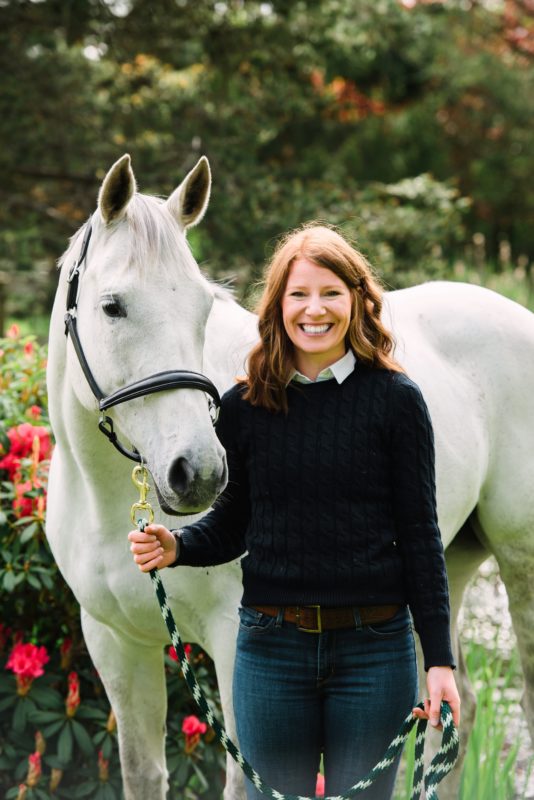 Dr. Melissa Eden was born and raised in Victoria B.C. She grew up in the local equine community competing in the area of three-day eventing, with her horse Shaba. As a young girl, Dr. Eden had a keen passion for horses and all animals, and developed a strong interest in medical sciences at a young age. Dr. Eden earned her BSc. in Biology at the University of Victoria, she then moved to Saskatoon and entered the Doctor of Veterinary Medicine program at the Western College of Veterinary Medicine. She met her future husband, a fellow student, at the University of Victoria prior to embarking on her next level of education. They are both extremely happy to be back home. They now have two young children who have that sparkle in their eye for anything equine!
Dr. Eden has held externships/positions and visited multiple world-class equine practices in the United States and Canada during and following her veterinary education. These have included Wise Equine Veterinary Services, Bend Equine Medical Centre, Pilchuk Veterinary Hospital, Hagyard's Equine Medical Institute, Paton and Martin Veterinary Services, Rood and Riddle Medical Hospital, and Myhre Equine Clinic.
After graduation from WCVM in 2011, she took an associate position in Alberta in a mixed practice just south of Calgary, doing the majority of their equine work. Her first year in practice proved to be phenomenal, with unique and rewarding experiences. She gained a wealth of experience performing equine preventative medicine, field surgeries, reproductive work, and after hours emergencies. While working in Alberta, she was very lucky to have acquired a new Warmblood mare, Carona, that is her forever horse.
Dr. Eden's special interests in her practice include equine dentistry, ophthalmology, field surgery, lameness examinations and reproduction. She has obtained advanced continuing education in equine dentistry with the International College of Equine Veterinary Odontologists (ICEVO). Dr. Eden strives to attend valuable and practical continuing education. These include practical wet lab courses through VetPD, Annual Delta equine conference, Annual AAEP conventions and the BEVA Congress in England, thus remaining current and forthcoming, to best serve her patients.
While she loved her studies in Saskatoon, and enjoyed working in Alberta, she always knew she would come home. She is delighted to be back in Victoria and to give back to the equine community that fostered her passion as she grew up on southern Vancouver Island. Dr. Eden opened her practice Eden Equine Veterinary Services in Spring 2012, and recently has partnered with her long term friend and colleague, Dr. Andrea Plaxton.
She looks forward to growing with the equine community of Greater Victoria over many years to come!
Dr. Andrea Plaxton, DVM, BSc.
Equine Veterinarian, Owner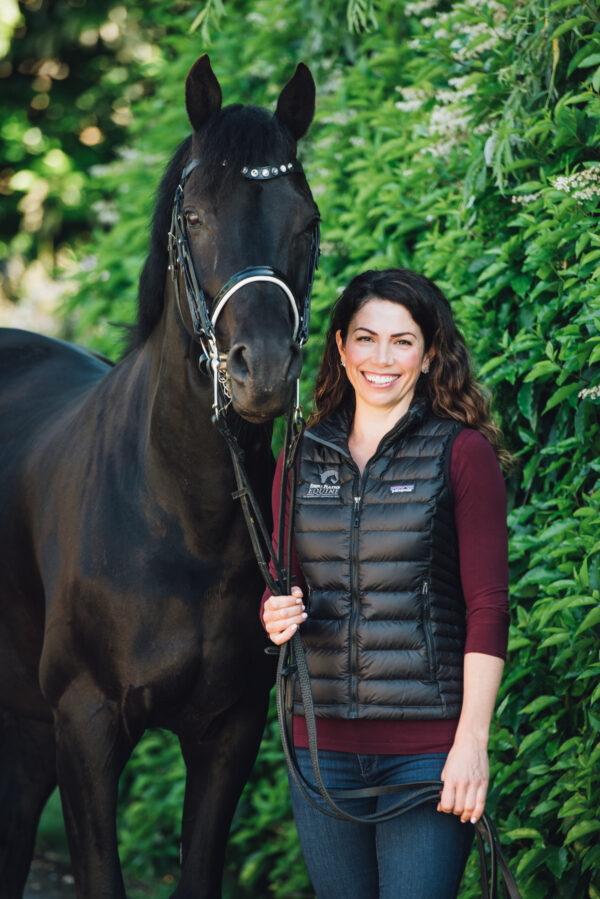 Dr. Andrea Plaxton was born and raised in Victoria, B.C.  Andrea has loved horses and equine competitions since the age of seven.
To make her dream of becoming a veterinarian a reality, Andrea attained a Bachelor of Science degree in agriculture with honours from the University of British Columbia and her Doctor of Veterinary Medicine designation from the Western College of Veterinary Medicine in 2008. 
Dr. Plaxton took a position following graduation at the Western College of Veterinary Medicine in Equine Field Service teaching students in their 4th year of clinical rotation.  She was also the back stretch veterinarian at the local racetrack. 
Wanting to return to the island, Andrea opened Epona Equine in the Comox Valley in 2013.  In 2019, Andrea returned to Victoria and partnered with Melissa to continue growing the practice. 
Although interested in all aspects of horse health, Andrea considers equine dentistry and lameness to be areas of special interest. 
Richelle Langard
Veterinary Assistant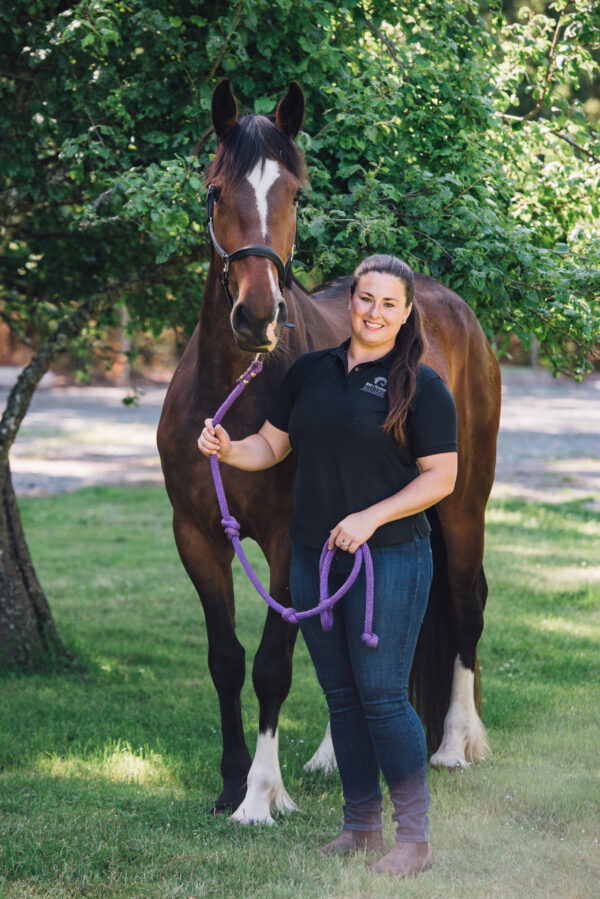 Richelle Langard was born and raised in Victoria, B.C.
She demonstrates a lifelong passion and love for horses, which was evident from a young age.  When she was nine years old, she had her first pony Sheena and began showing in Dressage.  Nineteen years later, she currently owns two horses that are trained in Dressage.  Jack is a chestnut Clydesdale X Thoroughbred gelding that has been a special companion of Richelle's for the past sixteen years.  Nevar, who has been with Richelle for the past 6 years, is a dark bay Holsteiner mare that is a prominent competition partner in higher level Dressage.
When Richelle isn't at the stables with her horses, she enjoys spending time with her family and hiking with her ten-year-old Bernese Mountain dog rescue, Abbie.
Richelle is the friendly voice on the other side of the phone when you call the clinic, and is Dr. Eden's road partner.
Meghan Keeler
Veterinary Assistant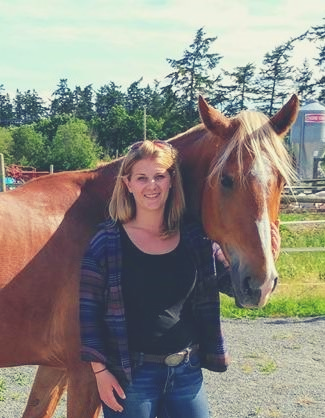 Meghan Keeler was born and raised in Victoria, B.C. She had her first riding lesson at age 4 and showed in the hunter/jumpers circuit until well into her teen years. 
She now owns a 7 year-old Belgian Draft X QH mare named Ana. Together they practice natural horsemanship and enjoy exploring new trails around Vancouver Island. 
Ana has recently been working with Comox Therapeutic Riding Association as a therapy horse and enjoys packing around kids of all ages. 
When Meghan isn't at the farm she is boating with her family or hiking with her two rescue dogs, Marley and Roxy.